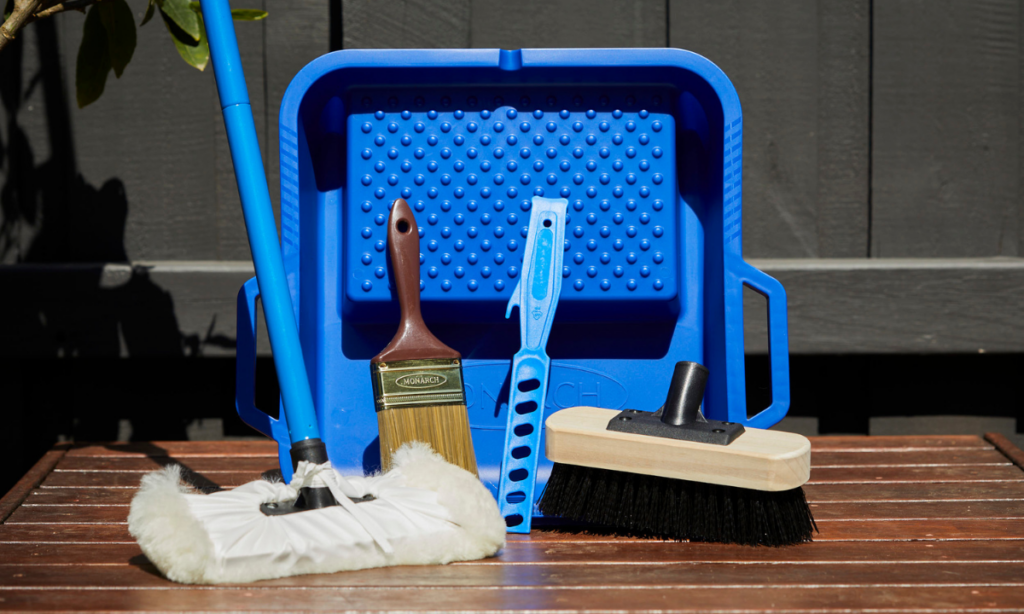 Entertaining this summer? Get your deck ready to party with the help of our range of Woodcare products! We'll take you through everything you need to know on how to revitalise your old deck this summer. Timber decks need to be stained every 6 – 12 months to maintain the integrity and extend the lifespan of the timber. If your stuck on what Monarch products you'll need to use to refresh your deck this summer check out our handy product finder tool and select decking!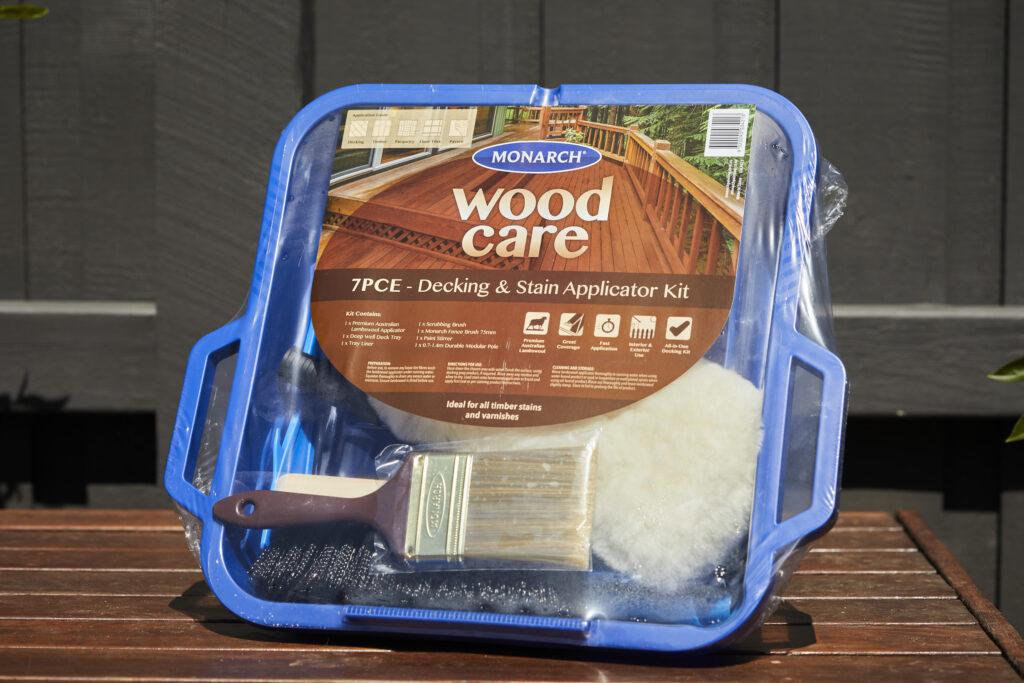 If it's your first time staining or oiling a deck, we recommend using the Woodcare Decking & Stain Applicator Kit that includes everything you'll need (except the stain) to complete your decking project, start to finish. Featuring a premium Australian lambswool applicator that provides a quality finish, great coverage and protection for the timber boards. While the Monarch Fence Brush 75mm will assist with applying a coating to railings, balustrades and harder to reach areas.
7PCE Kit Includes:
Premium Australian Lambswool Applicator
Deep Well Deck Tray
Tray Liner
Scrubbing Brush
Monarch Fence Brush 75mm
Paint Stirrer
0.7-1.4m Durable modular pole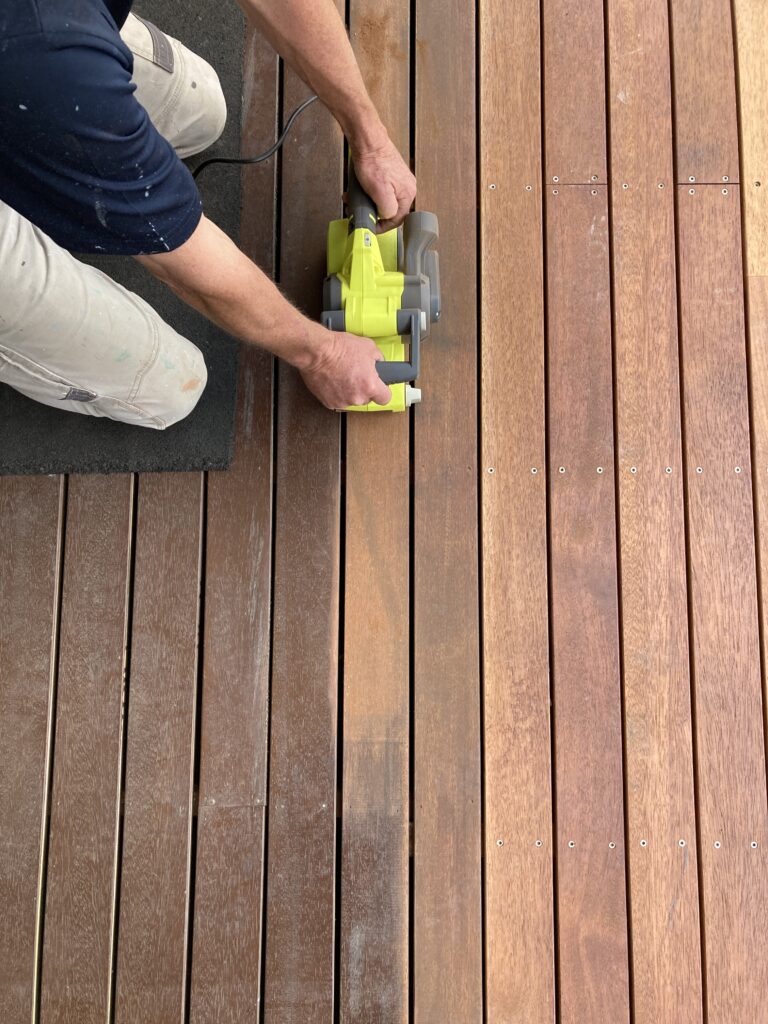 Preparing the deck
Let's get started; for any painting project, preparation is key but especially when it comes to decking! An existing deck requires thorough preparation. Use an electric sander to strip back the timber removing the old stain so the surface is smooth. For larger spaces it's worth investing in a belt sander to speed up the process, these can be hired at your local Bunnings Warehouse. After sanding, sweep the dust off the deck and wash the surface with a high-pressure washer and a quality deck wash. Once it's dry, you're ready for the first coat.
Preparing the brushes and applicators
Preparing your paint tools is an important step in the coating process, it will affect the quality of your finish. If you're using a water-based stain, soak your brush in an inch of water for 10-15min, then remove and spin in between your hands to remove excess water. If you're using oil-based stain, follow the same steps using turps.
Whether you're using water-based or oil-based stains, rinse your applicator in running water and run your hand up and down the applicator to remove the excess lint. Squeeze the applicator and let it dry out thoroughly. Both of these products are included in the 7pce Decking & Stain Applicator Kit mentioned above.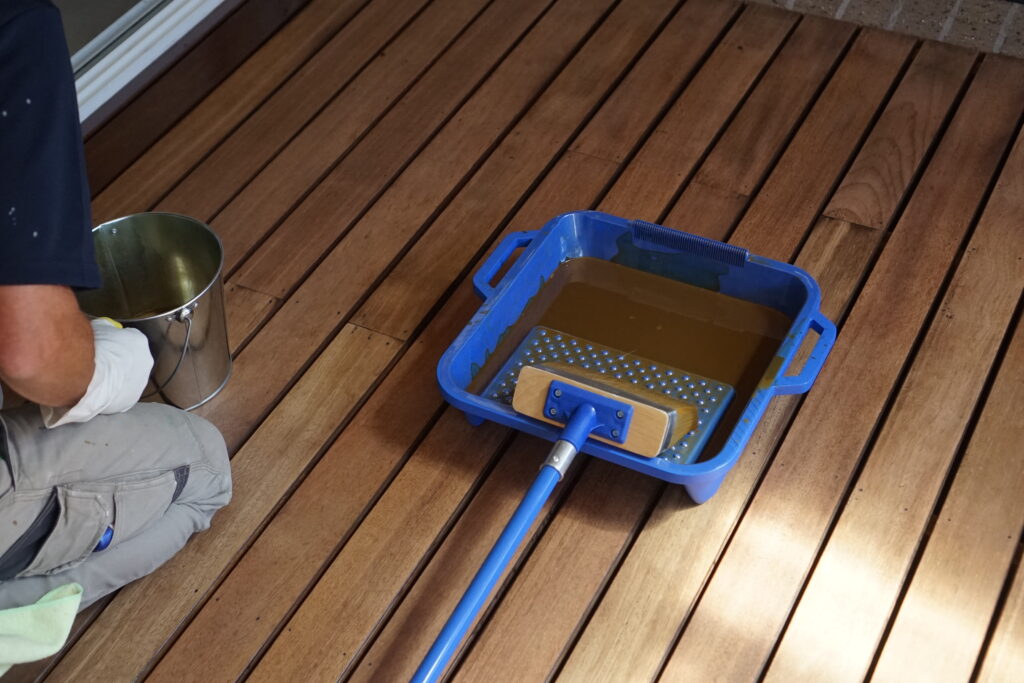 Oiling the deck 
Now that you've got your deck and applicators ready to go, it's time for the first coat! For the first coat, we recommend using the Monarch woodcare brush that is included in the 7pce kit as a brush ensures fuller coverage when coating timber slats. The first coat usually takes time, however, it's important that all edges are covered so your deck lasts longer. For a newer deck, use a quality decking oil, but if you have an older deck a quality deck stain with a darker pigment will really elevate the look of your deck. Follow your brush strokes with the Monarch Deck brush for a quality, smooth finish.
For the second coat, use the lambswool applicator in the Monarch Woodcare Decking & Stain Applicator Kit to apply stain approximately 3 slats at a time for the full length of the deck. Glide the applicator along the slats using light-moderate pressure; smooth strokes will ensure great coverage. Keep your paint tray nearby for easy loading. Remember to go back in with your brush to get the sides of each slat.
You'll need to leave your deck undisturbed for a few days after application but check the product details for exact times. Now you are ready to entertain on your deck this summer!
For more advice on how to select the perfect paint accessory for your next project, take a look at our new product finder tool. For more painting tips, tricks and inspiration, follow us on Instagram or Facebook.