Darwin Street Art Festival (DSAF) is a colour-filled 20-day festival that transforms Darwin's city streets into a unique outdoor gallery. The festival aims to bridge the gap between street art and art galleries and bring the city of Darwin to life. We spoke to three talented artists who participated in the 2022 DSAF to find out how they achieved their sky-high murals, what inspired them and the challenges of painting on such a large scale!
Miss Polly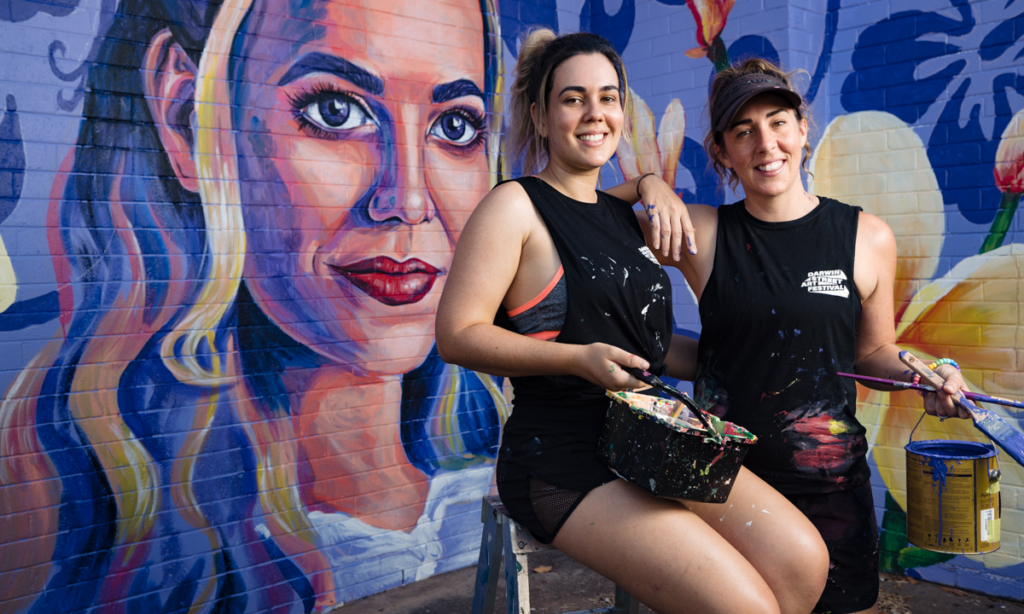 Miss Polly is the only artist that has been in every Darwin Street Art Festival since its conception in 2017! Polly is not only an amazing artist but also an arts educator and has been painting almost her whole life. Darwin Street Art Festival has given Polly the opportunity to excel in large form street art and grow with the festival. Polly's favourite Monarch product is our popular Detail & Finishing Brush range as it can hold a lot of paint allowing artists to blend colours with ease, even on a building.
"My Favourite is the Monarch Detail & Finishing Brush. I like using this brush when I am blending colours on the wall as the brush can hold so much paint and the round shape is similar to brushes I use when working on canvas but the large size makes it perfect for walls." Says Polly.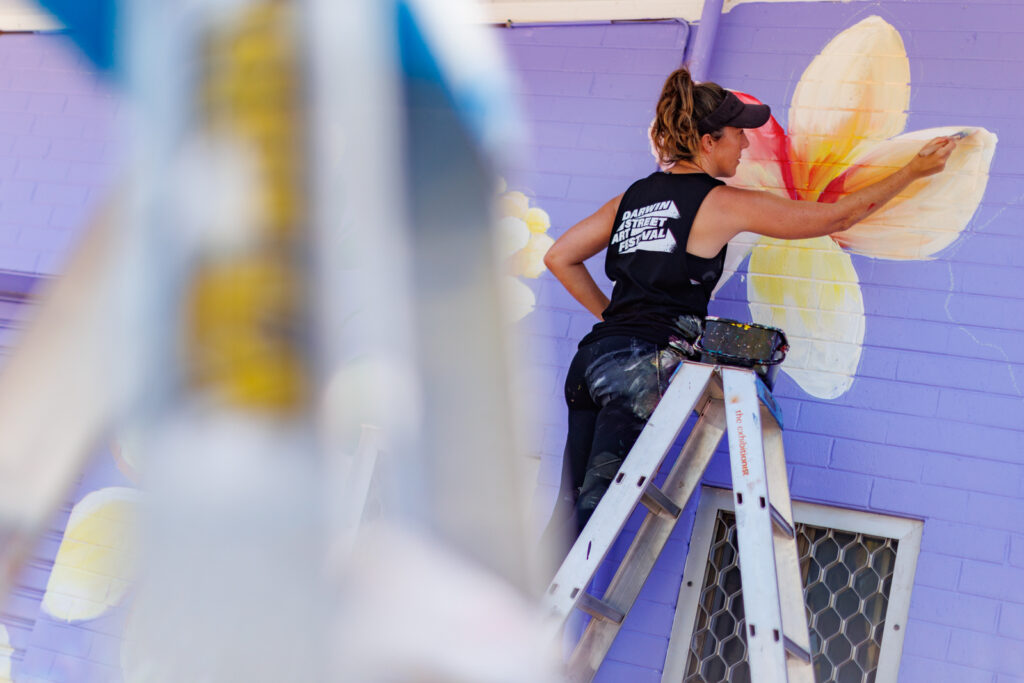 Image Source: Darwin Street Art Festival
This year's artwork was inspired by Polly mentoring local emerging artists to help with the growth of DSAF and support the growing local talent in the Northern Territory. Polly decided to collaborate with local artist Shona Lee Griffith to achieve this year's artwork; it took a lot of planning with two artists to create a cohesive piece.
"It was a little different this year as I collaborated with Shona Lee, so we knew that we wanted to create something floral. We met up a few times at the sight and made some drawings and worked out who was going to work on what part while making sure that it looked like a cohesive piece." Says Polly.
There are many considerations when painting on such a large scale but when you combine it with Darwin's weather, it can be quite the challenge. We asked Polly how she overcame these and if she had any tips she could share with us. 
"Getting things to scale is a really big challenge but in Darwin, in particular, working with the natural elements. The days are hot, which affects the way the paint dries and also working around a big storm. Painting in the early mornings or late evenings when it is a little cooler and having lots of water to hydrate is a must." Says Polly.
George Rose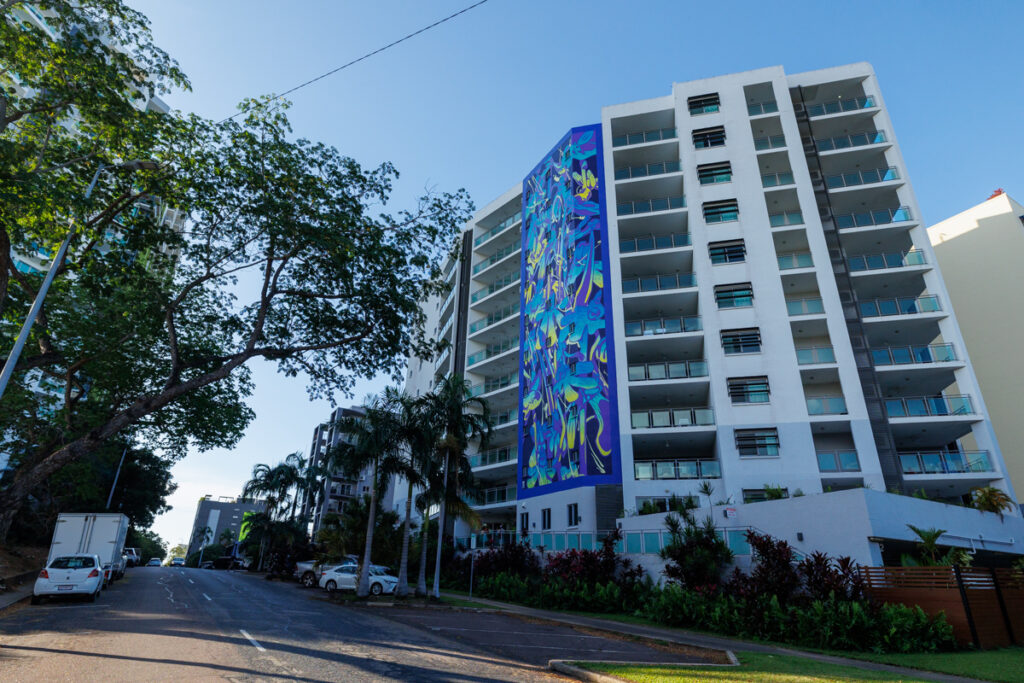 Image Source: Darwin Street Art Festival
You can find artwork by George Rose all over world and with over 150+ large scale murals she has become one of Australia's leading street artists. For this year's DSAF artwork, George decided to celebrate Darwin's native rare plant species with a mural titled 'Sand Plains' it features the bladderwort plant that can be found just outside Darwin in the Howard Sand Plains habitat.
"I love using endemic botanicals within my work, for this year's Darwin Street Art Festival I've created a work titled Sand Plains, which celebrates some of Darwin's rare and endemic plant species. I've depicted various Bladderworts, which are a small aquatic carnivorous plants and can be found in the Sand Plain habitat, just outside of Darwin." Says George.
We asked George what she found most challenging about painting on such a large scale and spoiler alert, she loves it all except the wind!
"To be honest, I love painting large scale buildings, I find them a lot easier than some of the smaller walls I've painted. Probably something I don't appreciate when painting large is bad weather, especially wind! Wind can cause so much havoc, like blowing paint from your brush across a wall! Or making it difficult to stabilise your arm whilst painting (also rain sucks)!" Says George.
We asked George what her favourite Monarch product to use whilst painting is, and we're not surprised it's our handy Windows & Doors Brush in the Detail & Finishing range, the triangle head makes it perfect for intricate line work. 
"My favourite monarch product is the Monarch 22mm Synthetic Window Door Trim Brush, I love how much paint it holds and it's perfect for creating the line work in my murals. It's the perfect brush for me really." Says George.
George gave us her top tips for painting in humid weather conditions and we're sure these will help anyone with an outdoor painting project this summer!
"Oooooooo…… keep hydrated (your body and the paint)! I use a drying retarder with paint when painting in hot climates which helps to keep the paint from drying too fast in my brushes. Also, wrap your brushes up and keep them out of the sun when you're not using them!" Says George.
Caleb Dude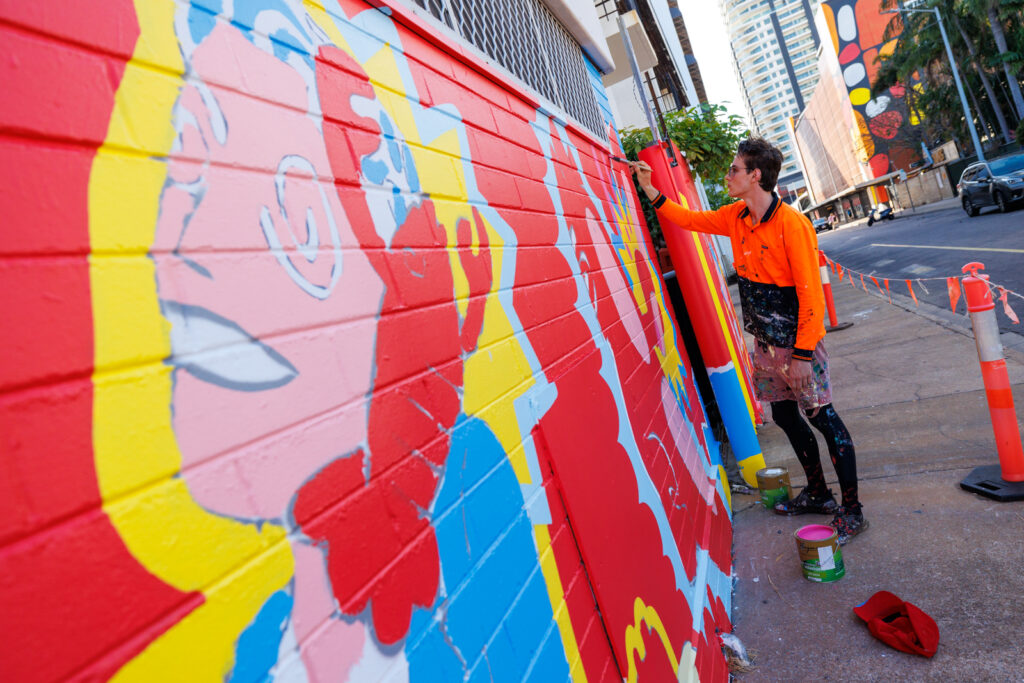 Caleb is a young artist who has been professionally painting since he was 16! For this year's Darwin Street Art Festival, Caleb painted a mural entitled Lobster Phone, this mural was painted using a whole range of Monarch brushes and rollers. In particular, Caleb loved using our Detail & Finishing Wall Brush and our smaller Bevel Liner Brushes for the detailed sections that he regularly uses in his artwork.
"I love to use the brushes mostly. In particular the medium to large flat wall brushes, I can really get the precise shapes I'm looking for while also being able to fill space relatively quickly. And also, the tiny sign writing brush with the long bristles. They are a game changer and I had so much fun using them for the intricate line work and lettering. It really elevated my work for sure." Says Caleb.
To achieve the Lobster Phone mural Caleb prepared by completing a digital mock up that he then super imposed onto the wall ready to paint. Caleb says that getting the sketch on accurately is one of the most challenging parts when painting on such a large scale. This year's mural was inspired by retro advertising that Caleb envisioned as a surreal and strange art concept.
Caleb explains, "I was inspired by retro advertising for this year's festival but I also wanted to make it strange and surreal at the same time, hence the product being the Lobster Phone."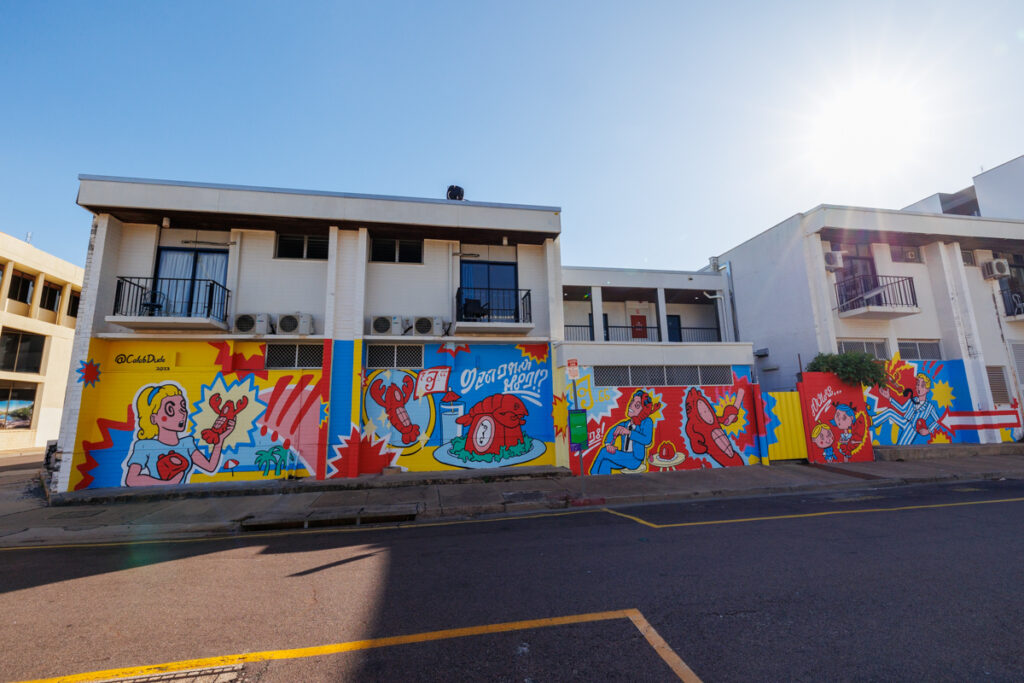 Image Source: Darwin Street Art Festival
We hope you've enjoyed hearing the 2022 DSAF artists created their murals with the help of Monarch paint accessories and how they overcame the challenging Darwin weather. If you'd like to read more about our partnership with DSAF click here or keep up to date with our community events and partnerships by following us on Instagram or Facebook.